Digital Classroom Management and Language Laboratory
Empower teachers and students inside and outside the classroom.
For Windows 7 – 8 – 10 – 11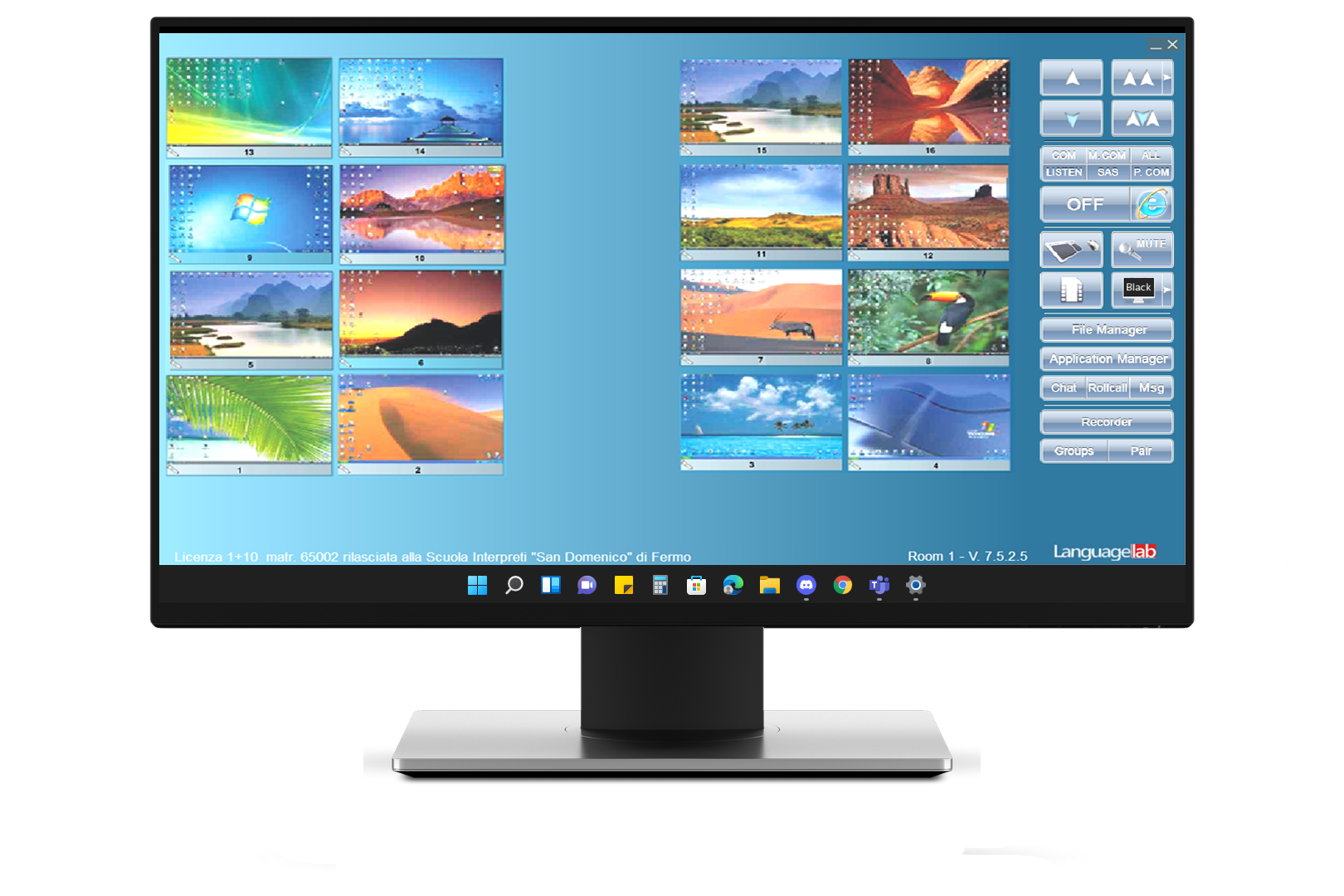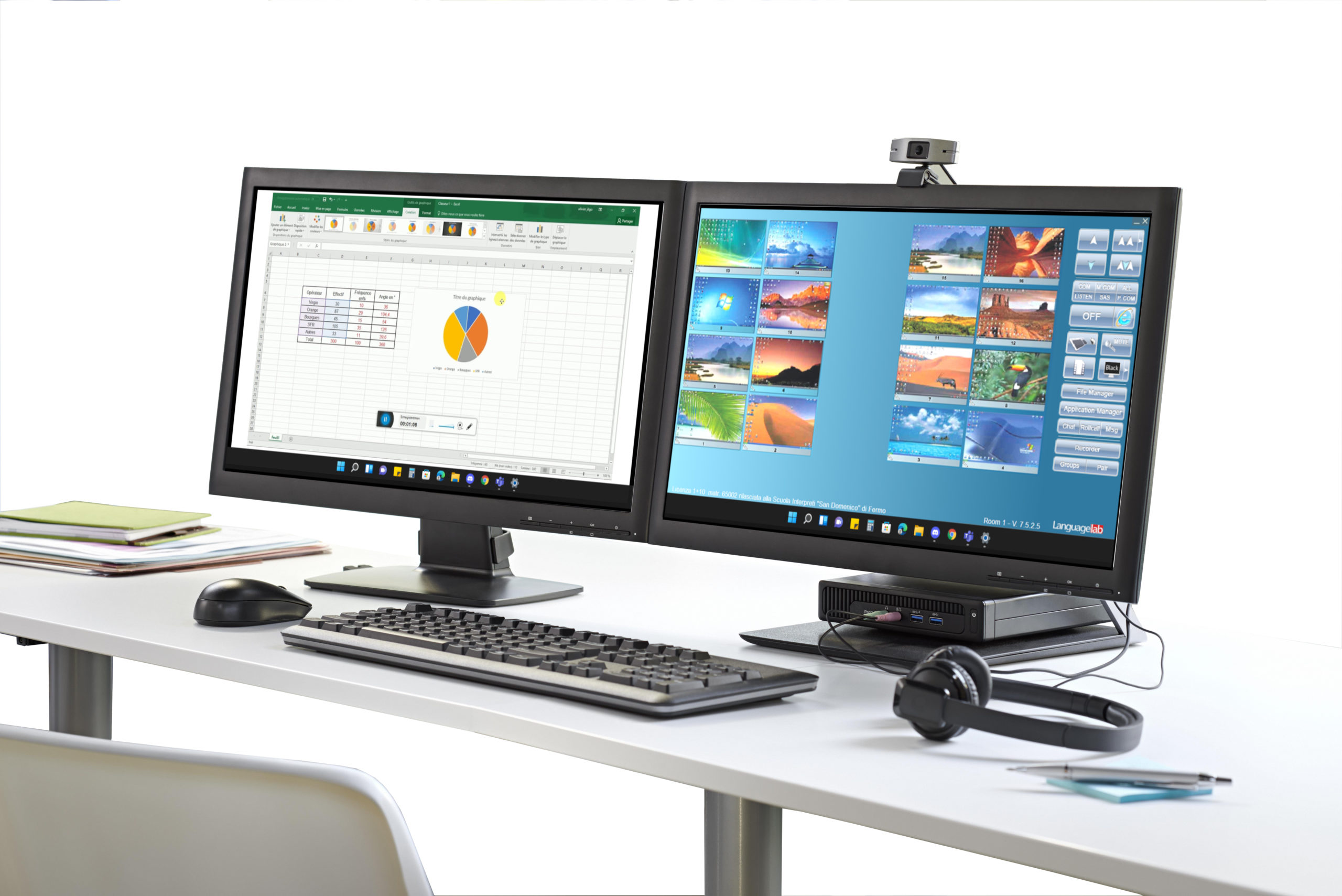 Powerful features,
easy to use tools
Teach
Lab

® is a multimedia classroom management solution that enables audio, video and data sharing between Windows PCs and the management of student activities in a dynamic and stimulating interactive environment.
World No. 1 in the fluidity of the films shared by the teacher!
The teacher acts on students' PCs without requiring any action on their part, whether in the classroom or remote.
The awarness of being controlled by teacher leads students to greater discipline and productivity.
The controls, optimised over 19 years, are easy and intuitive, with virtual buttons having explicit names and symbols, all with explanatory prompts.
The remote mode allows the same functions as the local one and the management panel remains unchanged.
Empowering student's trough guided learning
Management commands available to Teacher:
Thumbnail display of students' screens in their respective icons. For remote stations, it is also possible to display their webcam to see their faces.
The classroom map can be configured according to the location of the stations.
Although not specified below, all functions can be activated for a student/group/all and are executed in the same way on present and remote students.
Sharing teacher's screen and audio with the class to lecture or question a student on the exercise open on the teacher's screen, either privately or shared with the class.
Capture of a student's PC for private correction or shared with the rest of the class.
Helping students by sharing their screen/keyboard/mouse and simultaneous audio conversation, either private or shared with the class.
Sharing of real-time video clips as they appear on teacher's screen, even when streaming from YouTube, with teacher's voice superimposed for live commentary.
Blanking of students' screens to give attention to the teacher.
Full screen sharing of teacher's webcam or Document Camera.
Six audio communication functions: teacher to all, conversation with individual private and shared, conversation with all, student source of programme, discreet listening.
15 audio groups to put students from distant locations in conversation while carrying out a common activity.
Application Manager: open/close programmes and Internet sites on student PCs.
File Manager: distribution and collection of verifications.
Private and collective Chat for interactive written activities.
Student Web access block button, Black List of sites always blocked and White List of sites still allowed when blocking Web access (e.g. Invalsi site).
Button to block access to certain programmes. Blocking of USB ports to prevent connection of USB memory sticks, smartphones and portable disks.
All functions act simultaneously on classroom and remote students.
Configuration of teacher's workstation with one or two monitors, to have the control panel always visible on a dedicated monitor.
Remote teaching: Teacher can teach from home or from a desk in the school, managing in this case both students in the lab (via LAN) and the remote students (via Internet).
Real Time audio and video with feed-back
Experience instantaneous video and audio in the class and remote, featuring dual-track recording (original and recording) together with real-time feedback from teacher.